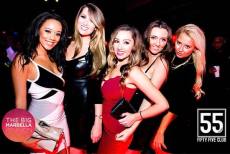 Libertine Dress Code Information. Everything you need to know about the Dress Code Policy for Libertine, one of London's best clubs.55 Club is one of the best weekend nightclub venue. Located in Oxford Street, 55 Club dress code is enforced strictly to make sure that all their clients will shine their brightest.
Partying in 55 Club every Friday and Saturday means that you will have to follow the smart and sexy 55 Club dress code.
55 Club dress code for the ladies:
55 Club dress code is smart and sexy. So think of the nicest dress and high heels that you have and put it on for a good nightout! Are high heels a must? Yes! The thing with these exclusive VIP venues are they consider the way you dress if you fit in with the club's character and style. Glam and fancy accessories are also recommended.
Don't forget that hair and make up is also a must! Put on some nice eye shadow, mascara and eyeliner to make your beautiful eyes pop. For an extra dramatic effect, smokey eyes will do. Wondering about your hairstyle? Curls are always a good choice, a classy sophisticated bun or the usual blow-dry, is fine but makes sure it looks good on you.
Dress code for the gentlemen:
55 Club dress code for gentlemen is smart and elegant! The key here is to look as sharp as possible. If you can be sharper, do it! Need an idea? A nice shirt, smart trousers and closed shoes are fine. Please don't even think about sportswear (no sport pants or trainers are allowed).
If you have any more questions on 55 Club dress code, get in touch with Club-Bookers so we can answer them. If none, contact us now for 55 Club guestlist and 55 Club table booking.
FOR MORE INFORMATION
PLEASE CONTACT US DIRECTLY



OTHERS CLUBS YOU MAY LIKE