Duo
20 Inverness St, Camden Town,
London NW1 7HJ
DUO London is the perfect choice for the ones wanting to be part of the London ultimate nightlife
DUO London is the perfect choice for the ones wanting to be part of the London ultimate nightlife experience! DUO London offers a full dining experience and an unforgettable clubbing night out. Once in you can expect a vast array of food dishes accompanied by a selection of experimental prosecco based cocktails to delight and entice all of your senses.
DUO London provides everything the guests can ask for in a single destination. Enjoy to the fullest the atmosphere across the two floors while tasting some of the most delicious cocktails. Also, enjoy the food at the fantastic restaurant of DUO London, and enjoy table service at one of the many booths and spaces on offer. You can use the DUO London Guestlist as well as the DUO London Table Booking. For information related to DUO London Tables Price please get in touch with our night guides and they will be at your disposal for anything you need.
DUO London is a must for the ones after the ultimate nightlife experience!
Duo London Guestlist Entry Price
For all the ladies in the DUO Guestlist from Wednesdays to Sundays, there is a high possibility for them to enter in the club for free before 10pm but the regular entry fees are £20 after.
Dress Code for Duo London Guestlist
Make sure to wear properly! The DUO London Dress Code is sexy, elegant and high heels for the ladies and smart casual and collared shirts and shoes for the gentlemen. The club management has the right to refuse entry when the dress code is not matched by guests at arrival at the venue.
VIP TABLE
You want to experience the ultimate VIP night out?
Book your private VIP table now!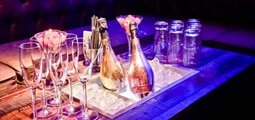 RESERVE A TABLE
Duo Address
Check out the latest flyers and get your names on the guestlist for the upcoming VIP parties
Check our weekly updated party picture gallery and share these with your friends.
FOR MORE INFORMATION
PLEASE CONTACT US DIRECTLY