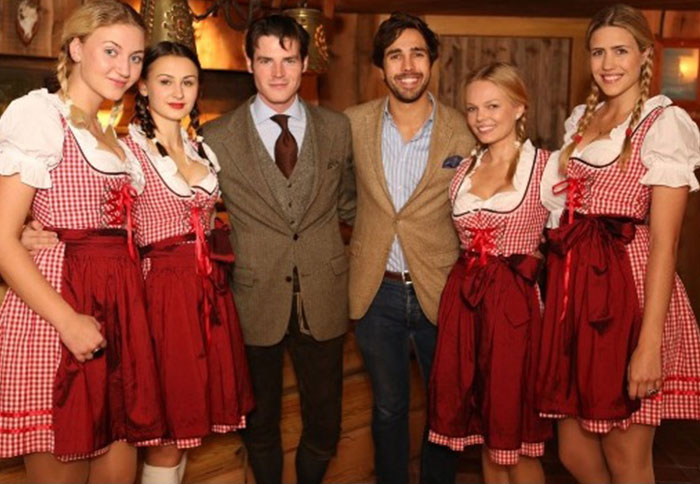 Bodo's Schloss Dress Code
One of the exclusive stylish bars in London, Bodo's Schloss features an Austrian theme partnered with culinary delights of Austria, it is perfectly located at #2A Kensington St. London W8 4PT. For nightlife enthusiasts, you should be aware of the Bodo's Schloss dress code which is smart casual attire, failing to follow the Bodo's Schloss dress code the club has the right to decline your entry. Check out the Bodo's Schloss Photo Gallery to get a glimpse of what the club can offer.
Aside from following the Bodo's Schloss dress code at the club, there would be an entry fee amounting to £10 or £20 depends on your arrival time. Bodo's also aims to serve you mouth-watering delicacies like grilled chicken Caesar, Spaghetti Pomodoro, smoked bacon macaroni cheese.
For Bodo's Schloss bottles you may get cocktails for as low as £8.50, £19.50 for the wines and Champagne for £85 per order. Bodo's also offers drinks that are allowed to share with 4-8 persons. Sharing drinks at Bodo's Schloss are as follows:
Ski- a combination of red bull with either Jagermeister or schnapps for only £80 good for 6 persons, Snowboard that can be shared with 12 party-goers, Heidi Heads up ideal sharing drinks for 4-6 persons.
Meanwhile, there are also regular Bodo's Schloss celebrities that can be seen every weekend like Gwyneth Paltrow, Cameron Diaz, Princess Beatrice, Ed Westwick and Rita Ora, David Beckham and Ashley Roberts.
To be able to enjoy the wildest and liveliest nightlife experience in London, it's better to ask Club Bookers to reserve your seats and be included at Bodo's Schloss guestlist, otherwise you will find it hard to enter the vicinity.
Bodo's Schloss table booking requires the patrons with minimum spending amounting to £1,000, guests are free to choose from various drink selections at the club.
Have fun and party til dawn every Wednesday from 6:00PM until 12:00AM, Thursday at 12AM-12PM and on Fridays and Saturdays 6:00PM to 3:00AM
FOR MORE INFORMATION
PLEASE CONTACT US DIRECTLY



OTHERS CLUBS YOU MAY LIKE