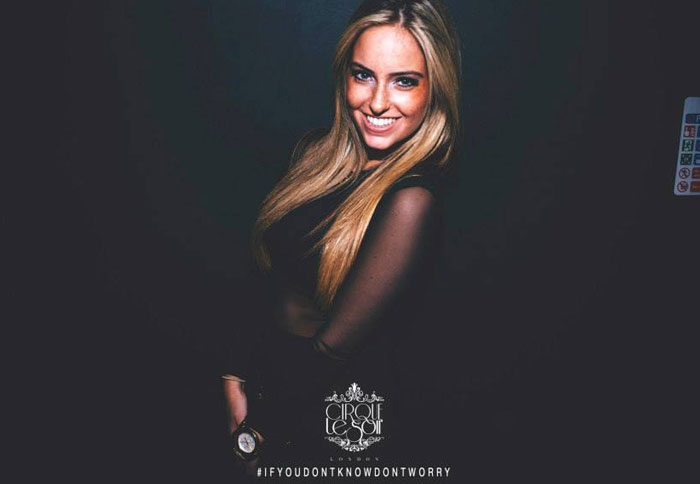 CIRQUE LE SOIR
DRESS CODE
Cirque le Soir is everything that you ever imagined and more in a nightclub. It exceeds everyone's imagination with incredible circus shows with clowns, fire-eaters, burlesque dancers, acrobats, and magicians. This exclusive and prestigious nightclub in Mayfair has the most unique decor, the finest cocktails and the best music in town. To enjoy an unforgettable night out experience you have to be in Cirque le Soir guestlist. But it does not stop there, you have to make sure that you observe Cirque le Soir dress code. The venue is known for having the strictest door policy, to the point that being on the VIP Guest List, or even having a VIP table booking does not guarantee your entry if your clothes are inappropriate. Here in Club-Bookers, we want you to experience and party in Cirque le Soir so below you will find great tips on what to wear.
Cirque le Soir dress code for the ladies:
Rule of the thumb in all VIP Mayfair venues is to dress to impress. With an elite clientele, wardrobe is the most important aspect that defines clubs. So it is just understandable that Cirque le Soir expects all the ladies to be in their sexiest and glammed up look. Maxi, medium, mini dresses and skirts are welcome as long as they are chic, seductive and fashionable. High heels should not be a question anymore as it is a requirement. No flats or sandals are allowed so let your legs be part of the show. VIP venues likes its ladies keep it sexy by showing off some skin but make sure you leave something to the imagination. Hairstyle and make up should match your outfit of course. Choose from beautiful curls, a sophisticated bun or a simple ponytail will surely suit you and make your whole look flawless. As to make-up, less is more, but this should not stop you from perfecting that cat-like, smokey eyes or red lips.
Cirque le Soir dress code for the gentlemen:
Just like any other VIP venue in Mayfair. Dress code is the most important criteria that will determine if you can enter and party inside the club. And when it comes to Cirque le Soir dress code for guys, you have to look sharp and elegant. A nice shirt with smart trousers or dark jeans paired with a stylish coat is your best bet. We can't stress enough the importance of shoes! Smart shoes are essentials for a good nightout. Avoid sportswear like shorts, sandals, opened shoes, athletic shoes or baseball hats. If your look does not meet Cirque le Soir dress code criteria, don't be surprised if you get kicked to the curb.
So ladies and gentlemen, we hope that this helps you plan your nightout perfectly. Make sure you check out the Cirque Le Soir entry price and bottle prices so you can make the most out of your Cirque Le Soir parties. Now better call up your friends and get on Club Bookers Cirque le Soir guestlist.
FOR MORE INFORMATION
PLEASE CONTACT US DIRECTLY