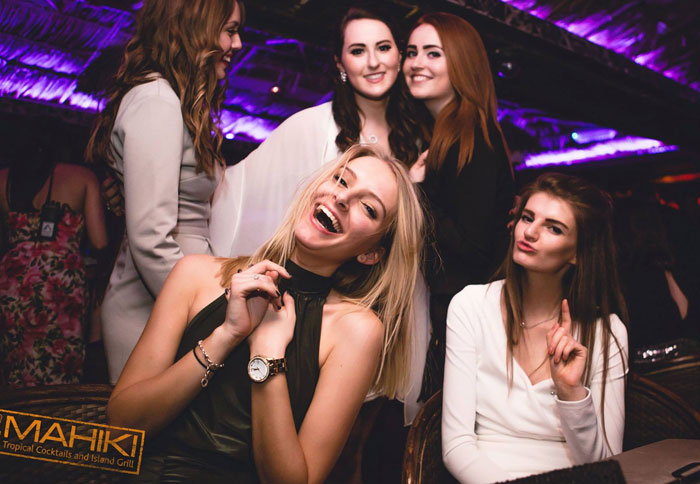 Mahiki in Mayfair is very unique, being an island paradise in the busy city. With its Tiki décor, delicious fresh fruit cocktails and tropical flowers on every Honolulu Honey's hair. It has become as one of the world's most famous night spots in London so some international super stars such as Piers Adam, David Phelps and Nick House have been seen partying here.
Mahiki observes a very strict door policy. Consider Mahiki dress code is elegant and sophisticated. Just like any other VIP venues in Mayfair, the club enforces a Mahiki dress code at the entrance.
Mahiki dress code for the ladies:
Why is there a Mayfair dress code? It is very important for each venues to enforce dress code as this is one way of showing a club's character. Since Mahiki is an exclusive island themed club, Mahiki dress code consists of smart and sexy attire. So ladies make sure you put on your best dress! Think of the sexiest dress or skirt and high heels in your closet. Are high heels a must? Yes! Conservative type? Nice fancy shorts will work. The thing with these exclusive VIP venues are they consider the way you dress if you fit in with the club's character and style. Glam and fancy accessories are also recommended.
Don't forget that hair and make up is also a must but don't overdo! Put on some nice eye shadow, mascara and eyeliner to make your beautiful eyes pop. For an extra dramatic effect, smokey eyes will do. For hair, curls are always a good choice, a classy sophisticated bun or the usual blow-dry, is fine but makes sure it looks good on you.
Dress code for the gentlemen:
Mahiki dress code for gentlemen is smart and elegant! The key here is to look as sharp as possible. If you can be sharper, do it! Need an idea? A nice shirt, smart trousers and closed shoes are fine. Please don't even think about sportswear (no sport pants or trainers are allowed).
Make sure you check out the Mahiki entry price and bottle prices so you can make the most out of your Mahiki parties. If you have any more questions on Mahiki dress code, get in touch with Club-Bookers so we can answer them. If none, contact us now for Mahiki guestlist and Mahiki table booking.
FOR MORE INFORMATION
PLEASE CONTACT US DIRECTLY