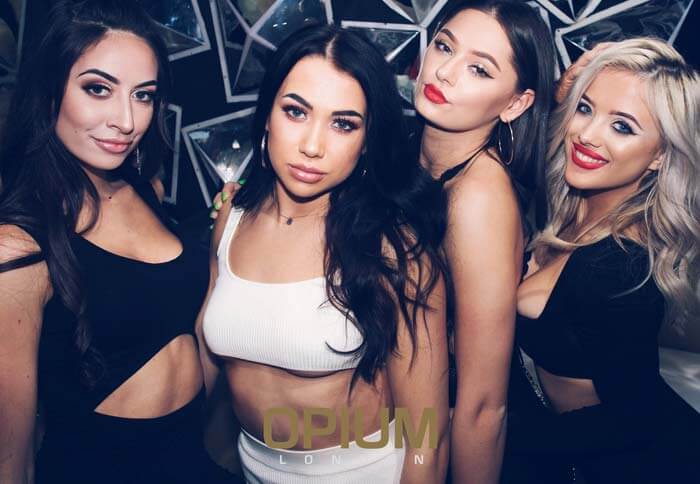 Opium Club is definitely one of the most exclusive and famous nightclubs in London. Infamous for being the playground of the rich and famous, Opium Club has hosted many celebrities.
The decor is oriental themed but again keeps an element of freshness with a twist that makes it modern and current; metal finishes on miss-matched Chinese furniture gives Opium, a contemporary London feel that is very welcome. Expect 3 bars of amazing Asian cocktails and a selection of dim sum – just a little teaser to get your appetite going. Just like any other VIP venues in London, Opium Club dress code is strictly enforced and must be followed by all guests in order to get in. Opium Club management reserves the right to refuse entry to those that doesn't fit the requirements.
Opium dress code for the ladies:
We love all our ladies so to make sure that you get in, be in your smartest and stylish dress. Partying in Opium Club is no joke, and we know that it takes some time to think of the perfect ensemble tha will make you stand out in the crowd! Opium Club is the perfect nightclub for you to shine as it is a very exclusive club and you must dress to impress. The best Opium Club dress code for the ladies is a nice little black dress that accentuates your curves. A glam skirt or fashionable shorts are also acceptable. But what carries it the most are the high-heeled shoes! Flats and sandals are a big no-no. So choose a comfortable pair of high-heels for the night because you will be on your feet all night in the dance floor! Dressing up is always fun, so keep it fancy and glam!
Opium Dress code for men:
The Opium Club dress code for men is also smart and stylish. Opium Club strictly enforces the dress code policy because they maintain the look of the crowd that they have in their parties. To gain entry, make sure you follow it. Proper shirt and shoes must be worn at all times. Trendy jackets to spice up your outfit is allowed. Remember that no sportswear is allowed!
If you are ready to have a great night at Opium Club, make sure you check out the Opium Club entry price and bottle prices so you can make the most out of your Opium Club parties. Contact Club-Bookers to get on the Opium Club Guestlist now!
FOR MORE INFORMATION
PLEASE CONTACT US DIRECTLY



OTHERS CLUBS YOU MAY LIKE