Tabu
1 Dover Street, London, W1S 4LD
Tabu London is the new VIP addition to the insane London nightlife.
Tabu London is the newest choice for those wanting to be part of London's ultimate nightlife experience! Tabu London is located in the heart of London and it offers a wide selection of drinks and high-class partying. The 8-bit gaming-inspired ambiance is arguably one of the freshest interior London nightclub scenes have ever seen. Want to be a patron in this newcomer club? Get in the Tabu Guestlist by reaching Club Bookers through WhatsApp and on our social media. We will take care of your guestlist booking.
Tabu London provides a new reason to experience ultimate nightlife clubbing. Enjoy to the fullest the atmosphere while choosing among their array of drinks or have their bottle collection for your group night out. You can use the Tabu Guestlist as well as the Tabu London Table Booking to get inside the club. For information related to Tabu London Tables Price please get in touch with us and we'll cater to your inquiries. Tabu London is fresh, lively, and fun!
Tabu Guestlist Entry Fee
For all the ladies in the Tabu London Guestlist from Wednesdays to Saturdays, there is a high possibility for them to enter the club for free but the regular entry fee is £20.
Dress Code for Tabu London Guestlist
Wearing the proper dress code upon entering Tabu London is a must! For the gentlemen, it will be smart casual like collared shirts and shoes. Sexy, elegant, and high heels are required for the ladies. The club management has the right to refuse entry when the dress code is not matched by guests at arrival at the venue.
VIP TABLE
You want to experience the ultimate VIP night out?
Book your private VIP table now!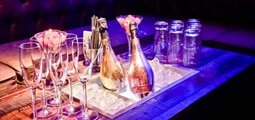 RESERVE A TABLE
Tabu Address
Check out the latest flyers and get your names on the guestlist for the upcoming VIP parties
Check our weekly updated party picture gallery and share these with your friends.
FOR MORE INFORMATION
PLEASE CONTACT US DIRECTLY