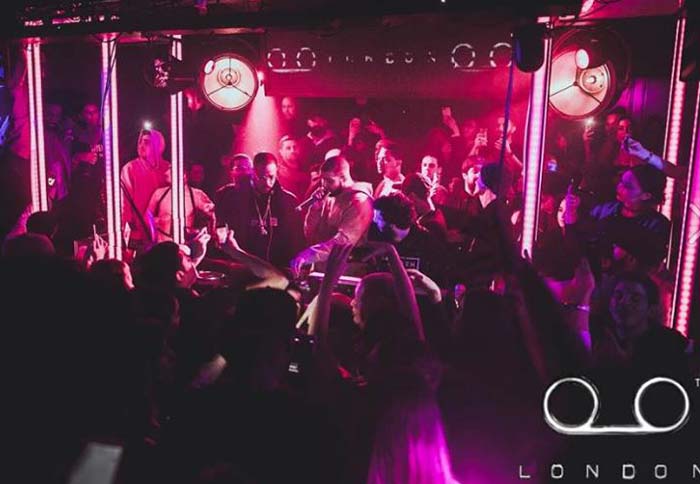 whatsapp us
24/7 NIGHTLIFE CONCIERGE

+44 752 3528885
fast way to get on a guestlist
Tape London is a premier club for creative and music-minded people . Tape is located at 17 Hanover Square in Mayfair, London. It is easily accessible using the tube, just go down the Oxford Circus Station and it is just 3 minutes away. Attracting global musicians, producers and artists, Tape is the London's venue for the musically inclined. Tape London's motto is "everything begins with music.To see what they are talking about, check out Tape photo gallery.
Inspired by Dallas Austin, who produced records for Madonna, Michael Jackson, Duran Duran, Rihanna and Gwen Stefani, it is obvious that Tape's interiors pay tribute to its love for music. It becomes more apparent when you check out the Tape photo gallery. Entering the venue is said to be like "walking into the brass mouth of a trombone". Other decors include a chandelier that looks like the horn of a gramophone, gilded copper effects on the walls and memorabilia from celebrated musicians like Kurt Cobain, Elvis Presley and Chuck Berry. Looking at the pictures in Tape photo gallery, it is hard to deny that Tape's passion lies on music.
Tape's signature charm has attracted known musicians and other celebrities. Its celebrity sightings include Mick Jagger, Pixie Lott, James Corden, and Niall Horan of the boy group One Direction. Other Tape celebrities who partied in Tape include Justin Bieber, Rihanna and Drake.
Gentlemen can gain access to Tape by paying £20 while ladies are free before midnight. After midnight, ladies have to pay an entry fee of £20. For worry-free access, it is best to be part of Tape guestlist. Book ahead of time to get the best deals.
Tape Club Photo Gallery
Tape has a capacity of 250 people and with limited tables available it is highly advised to avail of Tape bottles service and Tape table booking. Table prices vary depending on table type and the worth of bottle of your choice from the menu. Small tables come at £500 minimum spend, stage tables at £1,000 minimum spend and VIP booths at £1,500 minimum spend. If performers are hosting, table prices can reach up to £2,500 or vary depending on the event.
To blend with the hip and elite Tape crowd, you have to dress in a smart casual and elegant manner. You want to be comfortable enough to dance but not at the cost of stylishness and class. To get a better idea of Tape dress code, check out the Tape photo gallery and be the most fashionable party girl or guy. Follow our official Facebook, Twitter and Instagram accounts to see more photos taken by our event manager who captures the energetic spirit of Tape.
FOR MORE INFORMATION
PLEASE CONTACT US DIRECTLY