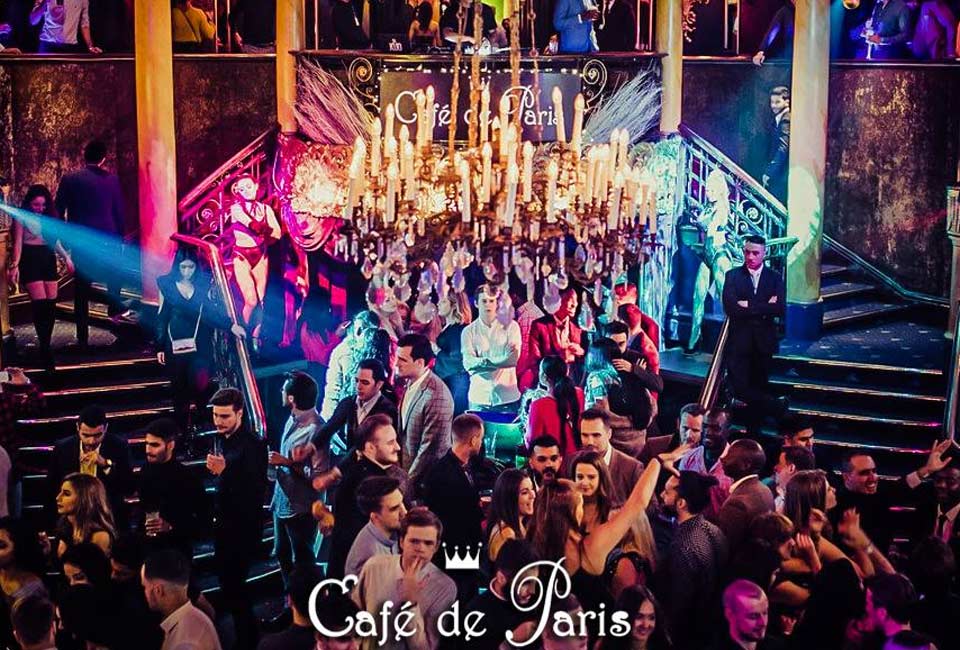 Cafe de Paris Drinks and Bottle Prices Menu
Cafe de Paris Prices
Are you looking for a place to party  while in London? Head along the West End area and check out Café de Paris at 3–4 Coventry Street London England beside the Leicester Square. In this article, we will give you the Cafe de Paris prices so you can make the most out of your night.
It was established in 1924 as theater which became famous when the Prince of Wales visited the place and became a regular patron who dined with the most prestigious names of Europe. Other prominent VIPs were Aga Khan and Cole Porter. In the span of 9 decades, Café de Paris continues to mesmerize the crowd with burlesque, cabaret and comedy shows. It is open every Friday and Saturday from 10:00 PM until 3:00 AM. The fastest way to reach it is to travel via Metro Tube Station in Picadilly Circus or Leicester Square.
Cafe de Paris Bottle Prices
To enjoy the spectacular acts, avail of Café de Paris guestlist, Café de Paris Bottle Price or Café de Paris Table booking services. Feel free to contact the club's official website or trust Club Bookers to do it for you. VIP Tables for up to 10 people will cost you £1000 minimum spend on bottles or drinks, Standard Tables for up to 10 people is  £500. Better check Café de Paris Bottle Price Menu to see if your favorite drinks are available. Bottle prices range from £170 (Vodkas and Rums) up to £3100 (Don Perignon Vintage 1995).Café de Paris Bottle Price is reasonably priced, ask Club Bookers assistance if you need more price information of champagnes, gins, wines and liquor spirits.
Cafe de Paris Entry Price
So, if you love Funky, R&B, Party Anthems, Pop and Commercial House music, Café de Paris is the perfect place to be. Join the crowd which is a conglomeration of trendy, hippie, elegant west European and international who are between 20-40s. Be ready to party with 500-1000 people every night. Getting inside is not a problem if your name is on Café de Paris Guestlist. This guarantees that you will not be waiting in the queue along with other partygoers. Café de Paris Entry Price is  £20 for gentlemen while ladies can avail of free entrance when they arrive before 11 PM on Fridays. On Saturdays, Café de Paris Entry Price for ladies is £10. Café de Paris Entry Price varies when there are special or exclusive events in the club, to be updated of these happenings, always check their online site.
Café de Paris dress code for gentlemen is smart casual while for ladies is chic and smart. Wear your stilettos and highest sexy heels. Enjoy dancing your worries away in their magnificent dance floor and experience clubbing to the highest level. Enjoy!
FOR MORE INFORMATION
PLEASE CONTACT US DIRECTLY



OTHERS CLUBS YOU MAY LIKE