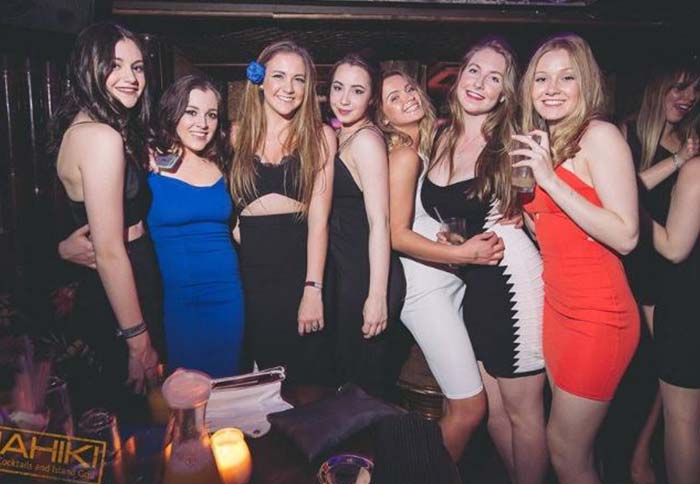 whatsapp us
24/7 NIGHTLIFE CONCIERGE

+44 752 3528885
fast way to get on a guestlist
They call it the Polynesian paradise in the heart of London. Mahiki Bar gives you a taste of Hawaii, check our Mahiki photo gallery to see the amazing photos inside. Ideally located at 1 Dover Street Mayfair London, Mahiki is a ride away via the Green Park Tube. It is a tropical haven with Hawaiian designs, flower-clad waitresses and Tiki inspired decors, as what our Mahiki photo gallery clearly shows.
This two storey club is perfectly designed to delight your senses. Its interior boasts hand carved Tiki figures, handmade princess chairs and Hawaiian cushions, creating an illusion that you are transported to a distant port of pleasure. You can look into our Mahiki photo gallery to check the interior and exterior designs of this one-of-a-kind club in Mayfair.
Mahiki is open from 5:30pm – 3:30am Mondays to Fridays and 7:30pm – 3:30am on Saturdays. You can enter free of charge if you arrive before 9:30pm, otherwise, expect to pay an entrance fee. Admission prices for this entertaining venue after 9:30 is £10 during Mondays to Wednesdays and £15 on Thursdays to Saturdays. Of course, you can join our Mahiki guestlist, just book in advance since this club can be very, very busy at night.
Mahiki Photo Gallery
This club may be a Hawaiian themed party venue, but it doesn't give you the right to wear your flip flops and boardshorts. Dresses and skirts are encouraged, and high heels is a must. Smart and sexy would be the safest bet if you want to gain entry to this fantastic venue. Follow Mahiki dress code to have a hassle-free night out!
Mahiki has attracted attention as a favorite hangout venue among celebrities and royals including Prince Harry and William. Some A-list Mahiki celebrities who visited the club are Lady Gaga, Rihanna, and Paris Hilton among others. Our Mahiki photo gallery has a vast collection of celebrity photos having the night of their life here in Mahiki.
One of the highlights of your night in Mahiki would definitely be posing at their Tiki inspired photo booth. Our events manager would be snapping pictures of clubbers and post it on our official Facebook page, Twitter, and Instagram Accounts. Of course, there is a dedicated section in our Mahiki photo gallery just for that purpose. So, sit back, relax and enjoy your upbeat adventure here at Mahiki.
FOR MORE INFORMATION
PLEASE CONTACT US DIRECTLY