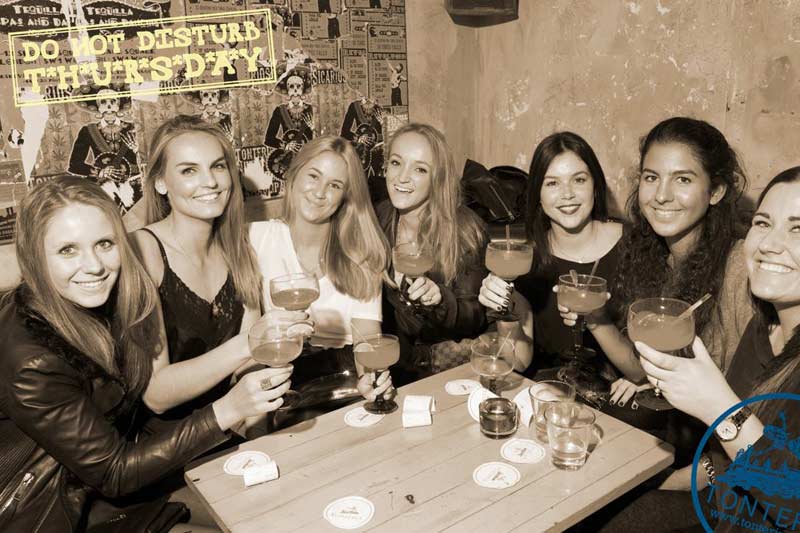 Tonteria Drinks and Bottle Prices Menu
Tonteria Prices
Tonteria, the subterranean restaurant and bar located at Sloane Square London is a slice of Mexico at its finest, and craziest. Fire-eating women, live Lucha wrestling, and drinks being delivered to your table by a toy train, will surely make your night interesting. But before entering this Mexican themed bar and restaurant, there are some things you need to keep in mind. Their door policy, the Tonteria dress code and the Tonteria Prices are things you need to be aware of in order to ensure a trouble free experience.
Tonteria Entry Prices
The venue is open from monday and Tuesday, then Thursday to Saturdays from 23:00 – 03:00, although the Tapa bar opens earlier at 17:00. The Tonteria Entry Price is £ 20 for men and women, but ladies who arrive earlier than 23:00 will be given free entry. Being a super exclusive club, they allow guestlist only on Mondays and Thursdays. Club Bookers can provide Tonteria guestlist and table booking for you.
Despite it's name, Tonteria is translated as "nonsense", this is a no nonsense kind of club. With its playful and colorful interior, good food and impeccable service, you can be sure that the Tonteria Prices are worth it. Owned by the ubiquitous Guy Pelly, the "best friend" of the royal brothers, Tonteria will surely give you a different type of entertainment. The tiled floors, the hammock ceilings and the Chelsea rustic decor matches well with their delicious tapas and an extensive array of spirits and liquors.
Tonteria Bottle PRices
The Tonteria Bottle Prices are very competitive in comparison with the other clubs in London. The Tonteria Bottle Prices start from £ 7 for a Tonteholtz, to £ 120 for a Tonte La Croix. Their bottle menus consist of Tequilas which cost from £ 220 to £ 320 depending on the brand, to various types of liquors like Rum, which costs £ 400 (Havana Club 15 yrs old), Martell XO Cognac for £ 380, Oxley Gin for £ 250, Johnnie Walker Blue Whiskey for £ 600, and Ciroc Vodka for £ 2,000.
The night wouldn't be complete without trying Tonteria's best sellers. Their sharing drinks menu consist of Jose Cuervo Express, where shots of frozen margarita topped with Perrier Jouet Champagne are delivered by the famous toy train and is priced at £ 110. They also have the Frozen Sugar Skull Shots, the multi flavored frozen fruit tequila shooters for £ 140.Or you can try the Mayan Pyramid, a deadly combination of Jose Cuervo Especial, Blanco, Reposado and Anejo tequilas with raspberry lime and agave syrup. You and your friends can enjoy it for £ 220.
For more information about the Tonteria Bottle Prices, you can visit Club Bookers and we will help you.
FOR MORE INFORMATION
PLEASE CONTACT US DIRECTLY